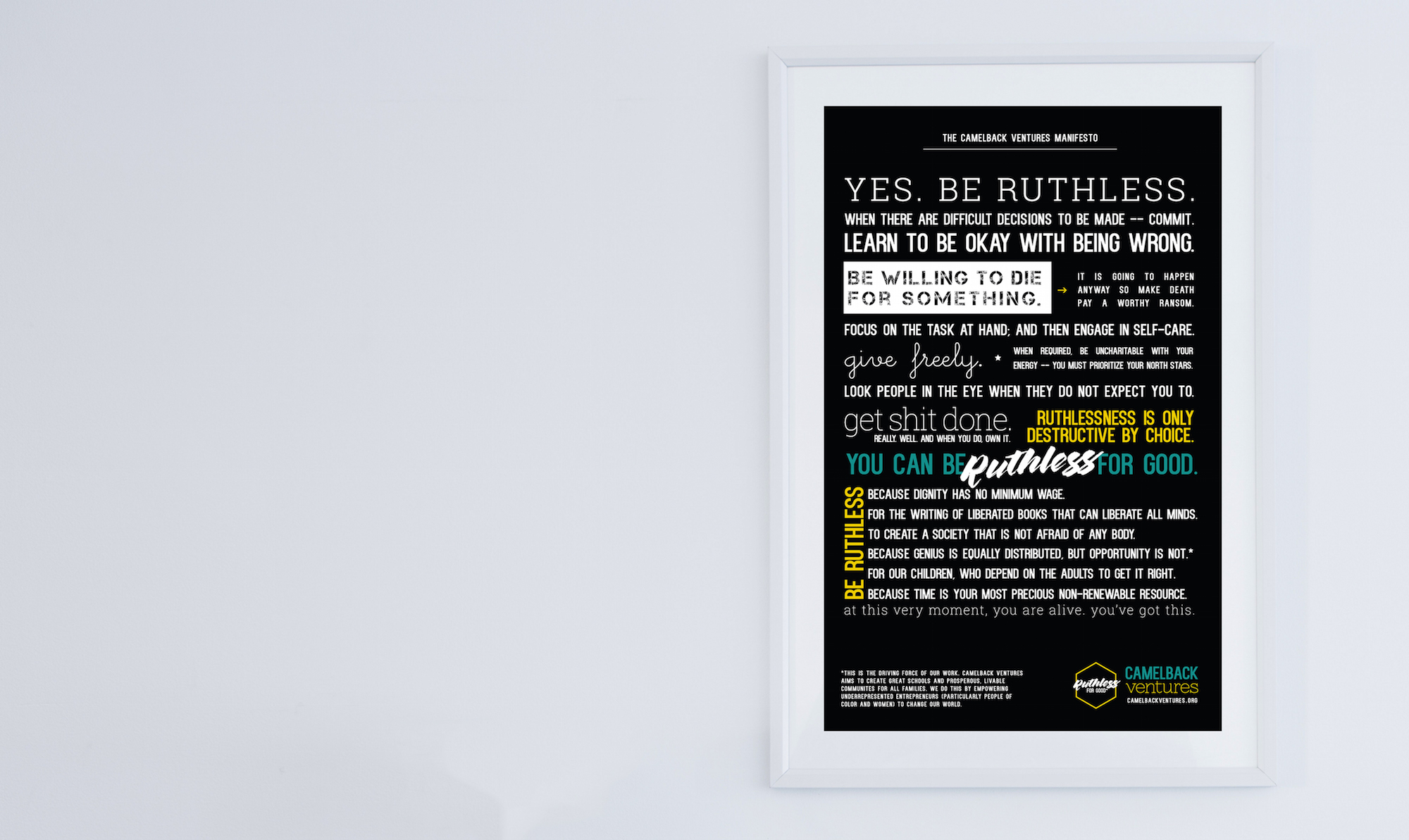 The Camelback Ventures Manifesto:
RUTHLESS FOR GOOD™
Every day, we see ruthlessness in action -- individuals and systems who fiercely work to empower themselves, to the detriment of communities around the world. Imagine though -- what would happen if we took that same energy, that same aggressiveness...and used it for doing something good in the world?
That idea, being ruthless for good is what drives us at Camelback. We believe it is always the time to be ruthless for good. Camelback Ventures presents to you our manifesto, our ideas that we express with urgency and intensity, to create an equitable and just world.
Coming soon: a way to get and rep Ruthless swag
THE ORIGINS OF RUTHLESS FOR GOOD
"Ruthlessness has the implication and inherent meanings of aggressive intensity, unyielding pursuit of an end. What if we took that same ruthlessness and put it towards the pursuit of equity in our country?" Camelback launches our manifesto, Ruthless for Good, and Aaron shares why this work for him is personal.
Read More →
RUTHLESS IN ACTION: STORIES & PERSPECTIVES
RUTHLESS FOR GREAT SCHOOLS
Founding a school is no small feat, and so we spoke with some of our school leaders to share their experiences and advice. This series follows five Camelback School Founders from their beginning ideating phase, the planning process, the charter application, the Camelback Fellowship, and opening their doors to students.
Jonathan Johnson began his journey to founding a school when one of his students died tragically in a drug deal. He resolved to create an innovative school that provides pathways to financial freedom. The school opened its doors in August to its first class of 9th-graders, mostly of color. After their first semester, Jonathan shares Rooted's early successes, the most inspiring moment of his career so far, and advice for aspiring school founders.
WHAT ARE YOU RUTHLESS FOR?
#ruthlessforgood